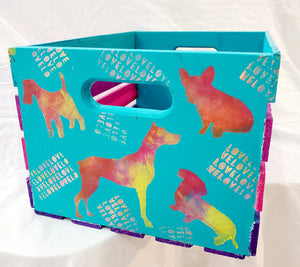 ​ Hi ArtFoamies lovers! I'm Niki Green and I'm addicted to ArtFoamies. I'm also a dog lover and my Golden Doodle, Jet, has a lot of stuffies that she leaves all over the house. So when I saw the Doggie stamps, I knew right away what I wanted to create with them . I covered a wooden crate in some thick white mural paint to give it a base coat. ( you could also use white gesso) ​ I love bright colours, so I used Dylusions Paints and added a couple of coats of Vibrant Turquoise, Bubble Gum Pink, Funky Fuchsia, and...
---
Hi Everyone and WELCOME to the ArtFoamies Blog.
Lynne Forsythe here with the First of a 2 video series! 
I wanted to make something Thanksgiving related with the BEAUTIFUL color so Fall!
---
Hi, Marsha Valk here from Nathalie Kalbach's Creative Squad. I have piles and piles of prints sitting under the desk in my workspace, waiting for a fun project to use them on. So for this month's theme, I dug out a couple of prints I made previously using Nathalie's Buenos Aires Tile and Santa Fe Positive Negative Art Foamies! I wasn't sure what I was going to do with them, but whilst sorting through the pile of prints, I came across an illustration I did a couple of years ago. I decided to use it for my project. I scanned...
---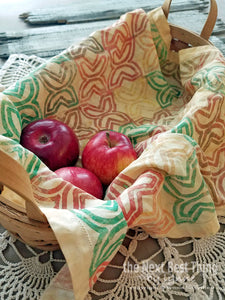 Hi ArtFoamie Fans!! Lynne Forsythe here with my last post as part of the ArtFoamies Design Team.  Today, I have the second video in my 2 part video series.I am using the stamp off sheets ('Tovers) from my previous video where I transformed a Flea Market Find linen napkin, into a BEAUTIFUL work of art that will look LOVELY in a basket filled with goodies on my families Thanksgiving table!  But today, I will be showing you how I collaged my 'Tovers to create a new "paper."And cut into pieces parts to be used on my Art Cards The ArtFoamie...