• 100 moons creative team • artfoamies • blog • creative team • rubbermoon
Summer Memories by Barbara Vaccari  Hi there! I am Barbara Vaccari from Albisola, Italy. I am so excited to be here with you and thankful to ArtFoamies for hosting me today . First, I'd like to thank everyone for the glad response I received for my post. You have been so nice to take time to comment. I really appreciate it. I apologize for my language mistakes. I'll do my best to be simple and clear in my step by step instructions.   Every time I play along with ArtFoamies I get excited. They make me feel free and a child...
---
• 100 moons creative team • artfoamies • blog • creative team • rubbermoon
Centered Soul Art Journal by Renae GOOD MORNING FRIENDS! Galactial layouts are some of my favorite to make because they're so calming yet so beautifully wondrous with so many possibilities of planets, colors, stars…. Some of the most beautiful designs have been the bright shining sun and the emotional moody planet we have learned to call the moon. Today's project features: Kae Pea | Phases | Foam Stamps - Set of 5 Balzer Designs | Ring Fling | Foam Stamp Large Mixed Media Art Journal Blue and Purple Ink Sprays Gold Modeling Paste Silver and Gold gesso Embossing Glitter In...
---
• 100 moons creative team • artfoamies • blog • creative team • gypsy soul • nancy sheads • queen bee • rubbermoon • shadowbox
Queen Bee Shadow Box by Nancy Sheads GOOD MORNING FRIENDS! As some of you know, I manage this blog for Kae Pea, so I'm usually behind the scenes. However, this week I'm the guest artist and I have a mixed media project that I hope you'll love. It features the Queen Bee Foam stamp as well as several others in supporting roles.  I'm usually a card maker and my main medium is Copic markers so this was really out of my comfort zone. But I was inspired by the clay work projects by Jenn White and Wendy Taylor-Aspinall so I decided...
---
• 100 moons creative team • blog • creative team • mary engelbreit • nancy sheads • rubbermoon
Mary Englebreit's Wishing Upon A Star by Nancy Sheads GOOD MORNING RUBBERMOON FANS! Today's project was actually inspired by our own Jenn White who recently posted her rainbow colored tiles, tassels & tuffets using stamps from ArtFoamies. If you missed her blog post, take a look at it here!  In a recent conversation, Jenn revealed that she often stamps out mass quantities of things and sends them out to friends. I was a happy recent recipient of some of her colorful Moonglo Bright Rainbow HeArtFoamies featured in her January post. What I love about Jenn's artwork is that she just goes...
---
• 100 moons creative team • blog • creative team • jenn white • rubbermoon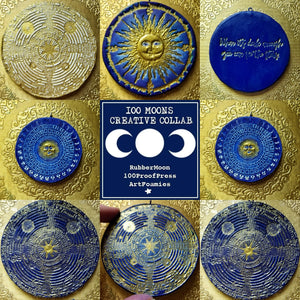 HELLO EVERYONE!  MY NAME IS JENN WHITE. NICE TO MEET YOU! Thank you all for joining me today on the 100 Moons Creative Collab Blog. For my first 100 Moons Creative Collaboration Team creations, I chose to experiment with a 2.2 pound brick package of Sculpey air dry clay & RubberMoon & 100 Proof Press rubber stamps. I truly enjoy taking the rubber stamps in my collection a step further using them as clay impression moulds. When rubber stamp shopping for this type of creation, I purposely choose UNMOUNTED OR TRIMMED ON CLING rubber stamps that are deeply etched for the best...