• 100 moons creative team • artfoamies • blog • creative team • mandala
Celestial Dreamcatcher  Celestial Dreamcatcher     Hello again everyone! It's Patti Campbell here to share how I made this fun stampdala dreamcatcher.    For this project I used:   Stamp Buddies ArtFoamies: Wingspan by Sandra Evertson Spiraling from Microcosms Set by Kae Pea Creative Concentrics - Celestial Rings by Kae Pea Foam Frames & Shapes - Heart by Kae Pea RubberMoon: Small Moon Goddess by Kae Pea Sprinkle Moondust, Spread Magic by Dave Brethauer 1/2 yd. of natural canvas 18" metal hoop hemp cord feathers eyelets eyelet setter small hammer hole punch pencil scissors Jacquard Textile Paint in 101 yellow, 111...
---
• 100 moons creative team • blog • mandala • patti campbell • stampdala • tote bag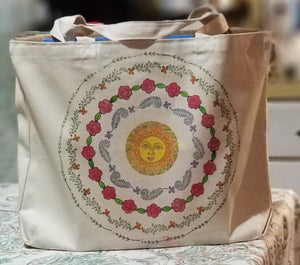 Hi Everyone!  I'm Patti Campbell here to do my first ever blog post for the 100 Moons Creative Team. I love creating Stampdalas! It's one of my favorite things to do with rubber stamps. I wanted to share with you how I made this Stampdala tote bag. For this project I used the following materials: *imagine large canvas tote bag purchased at Michael's *Jacquard Textile paint in 101 yellow, 106 true red, 116 apple green, 111 sky blue, 110 violet,  and 123 white purchased from ArtFoamies *number 2 round brush *unknown sun rubber stamp *kp5315D rosa stamp from RubberMoon *MM7164A simple leaf...