• 100 moons creative team • 100 proof press • art journal • artfoamies • blog • creative team • go see explore • laura dame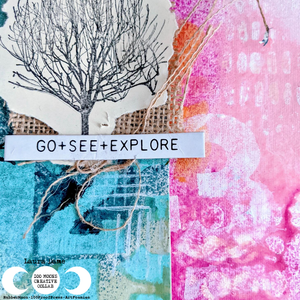 Go + See + Explore - Art Journal Spread   Hello, everyone! It's Laura, back on the blog today. I am sharing another art journal spread, but one with a little different feel this time.  This project did not start as a journal spread. In fact, I had planned to only make an assortment of tags. But once I started going, this is the direction it led! I really wanted to try stamping with ArtFoamies and acrylic paint into the gloss sprays. I thought it might make a cool, grungy effect, and I think I was right! I really loved...
---
• 100 moons creative team • 100 proof press • patti campbell • stampdala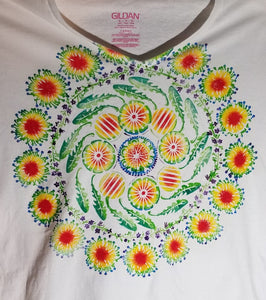 Stampdala T-shirt   Hi Everyone! Patti Campbell here with my second blog post as a member of The 100 Moons Team.  I'm going to share with you how I made this Stampdala t-shirt with ArtFoamies, Stamp Buddys and Jacquard textile paints.   For this project I used  1 plain white v-neck t-shirt (washed & dried) ArtFoamies Stamps Jacquard textile paints  1 small round brush 2 Stamp Buddys 1 large piece of cardboard to go inside the t-shirt a pencil and a compass   1. First I placed the cardboard inside the t-shirt. This will keep the paint from bleeding through...
---
• 100 moons creative team • 100 proof press • artfoamies • blog • creative team • sarah matthews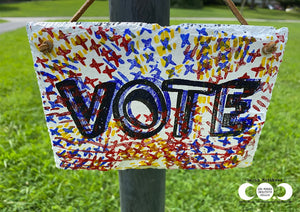 Thrift Flip With ArtFoamies   Hey Friends! I am Sarah Matthews, and I'm excited to share with you a thrift flip I have completed with ArtFoamies. I purchased a sign from the thrift store for $2 and repurposed it into something new. Before:   After:   Click here to watch the video Supplies:   FolkArt Acrylic Paint in Titanium White Golden Fluid Acrylics in Carbon Black, Ultramarine Blue, Pyrrole Red, & Benzimidazolone Yellow Medium   GelliArts Gel Press 5" x 7" ArtFoamies.com Abstract Landscape by Sarah Matthews ArtFoamies.com Shadow Alphabet by Balzer Designs ArtFoamies.com Dino Skin by Balzer Designs Ranger...
---
• 100 moons creative team • 100 proof press • artfoamies • blog • creative team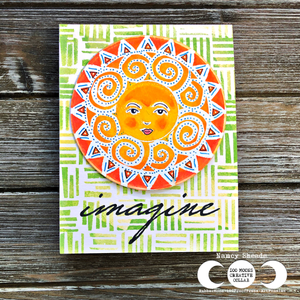 100 Moons Creative - Fun with Art Foamies GOOD MORNING FRIENDS! This is Nancy Sheads and I'm back today with another project for 100 Moons Creative. For today's project, I wanted to create  a simple card that was quick and easy to make but had a WOW factor.  My project features the following stamps from RubberMoon and ArtFoamies: Kae Pea | Creative Concentrics - Celestial Rings | Foam Stamps - Set of 3 by Art Foamies Balzer Designs | Inner Struggle | Foam Stamp by Art Foamies Ma Vinci | BLP504G - Cursive "Imagine" - Rubber Art Stamp by Rubber...
---
• 100 moons creative team • 100 proof press • blog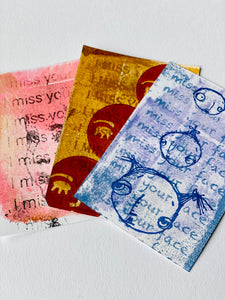 Hi Friends! I'm excited to share my second blog post with you. I don't know about you, but I certainly find that during this time of COVID one day just blends into the next. Half the time I don't know what day it is. The thing I miss the most is seeing the faces of friends and family. Yes, we are fortunate to be able to zoom, and FaceTime, or talk on the phone, but to actually sit across from a friend for coffee, to hug a relative, to kiss the face of a child; I miss those things.  I...